Martha's Closet
So far, the holiday break has been just exactly what I have wanted - time with The Fam interspersed with liberal doses of time getting home improvement and home chores done.
It you check this blog regularly you might remember the post about the
hall closet problem child
. Over the past several years that we have lived in the house, we have tended to jam anything that doesn't have a home or an immediately discernable place to go into this centrally located closet. The closet had achieved a state where we quickly opened it and threw more in, or slowly opened it and piled one more item in precarious piles. This was really too bad, seeing as it is about as in the middle of the house as you can get.
Friday we took everything out, including stuff that was in there when we bought the house (Including "Iron Tough Ceramic Spray Sink and Tub Liner" Which, if any, of those words go together?), and layed it in the entry hall. Next came triage and planning. Then I built shelves for all items deemed important and useful enough to regain entry into the hallowed hall.
Here is the rough but utilitarian result: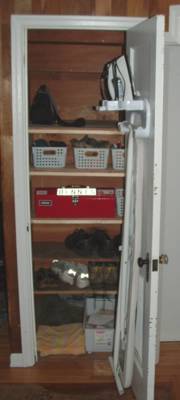 In keeping with our vow to spend no more on the main part of the house until we can affort to gut it, I am happy to report that this project cost zero dollars and was accomplished with 100% scrap and materials already on hand.